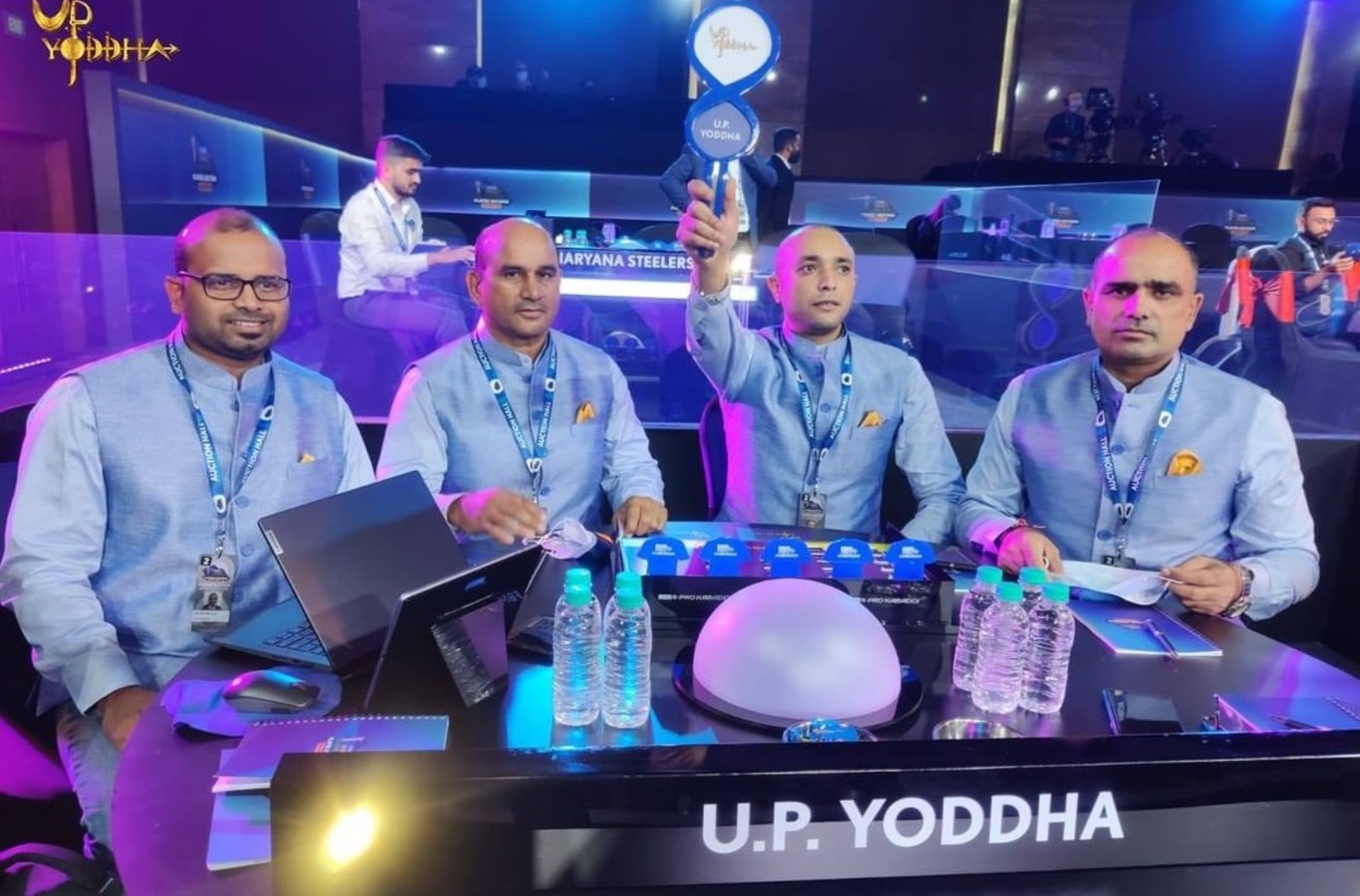 UP Yoddha has been a part of the Pro Kabaddi League for only 3 seasons now and have impressively qualified for the playoffs every single time. Last season though they were more dominant with their results than they have ever been before, winning 13 out of their 22 pool games, on the back of depth in their raiding unit along with a tight defensive unit. This season, they have retained the core of that defense but by going for the big buy of Pardeep Narwal, they have sacrificed that depth in raiding that combined beautifully for them in Season 7.
Overall Squad Rating – 8 / 10
Curse of the most expensive player – As we have seen in seasons past, teams with a player in the > 1cr bracket have often struggled to deliver results; and one reason for that could be the impact of such a high price player on the purse of the franchise. To get Pardeep Narwal at Rs. 1.65 Cr, UP Yoddhas have sacrificed their raiding depth of Rishank Devadiga, Monu Goyat, and Prashant Kumar Rai – and instead got one Pardeep Narwal. While man-to-man Pardeep is likely to give you 300 points over a season he is also only one person. And along with Srikanth Jadhav & Rohit Tomar 3 out of their top 4 UP raiders are left raiders. Thus allowing opposition teams to plan to take on this dangerous raiding unit better. 
A strong defense that came cheaply – While there is a risk element to the Pardeep Narwal Strategy, if there was one team that could pull it off, it had to be the UP Yoddhas, with the defensive depth they have and the quality of NYPs they have been scouting out each season. Starting with Nitesh, Sumit, Surender Gill, and now Rohit Tomar, this team has always found high-quality young talent in the off-season and generated great in-season results from their NYP program. 
Pardeep 300pt Narwal – the Yoddhas came into this auction with a plan. Having picked up young Nitin Panwar in the NYP draft process, they then bided their time through the auction till a certain Pardeep Narwal came up for the bidding. After getting in a multi-direction bidding war they were left with the winning bid of 150 Lakhs. Then in the fear of an FBM from Patna Pirates the Yoddhas rebid against themselves and took the price of the Pardeep to INR 165 Lakhs, thus making him the most expensive player in the history of the tournament. 
Strong support raider in Shrikant Jadhav – While they kept trying to pick up raiders at bargain buys, the only realistic buy they could make was getting their FBM on Srikanth Jadhav. Thus making sure that Pardeep has a strong support raider. The question remains, can Srikanth Jadhav deliver for the Yoddhas, as Monu Goyat did for the Pirates in season 5 or as Chandran Ranjith did for Dabangs in season 7!
String of junior players – 8 out of the remaining 9 players picked up in the auction are players at their base price and the only person UP Yoddhas picked up above the base price in the auction was Mohammad Taghi Paenmahalli who was with Bengal Warriors in season 7.
Will a team of one superstar, two quality support raiders, a top defender at a discounted price, and a whole brigade of NYPs deliver another solid campaign like season 7? Or will they just scrape through as in season 5 & season 6. This is a team and coach who know how to qualify and how to get the most out of players with injury risks, but that is because they have always had raiding depth. With a new auction strategy this time around, it will certainly be interesting to see how this outfit goes come December!
[Header Image Credit: UP Yoddha]
[All Data Courtesy: Kabaddi Adda]