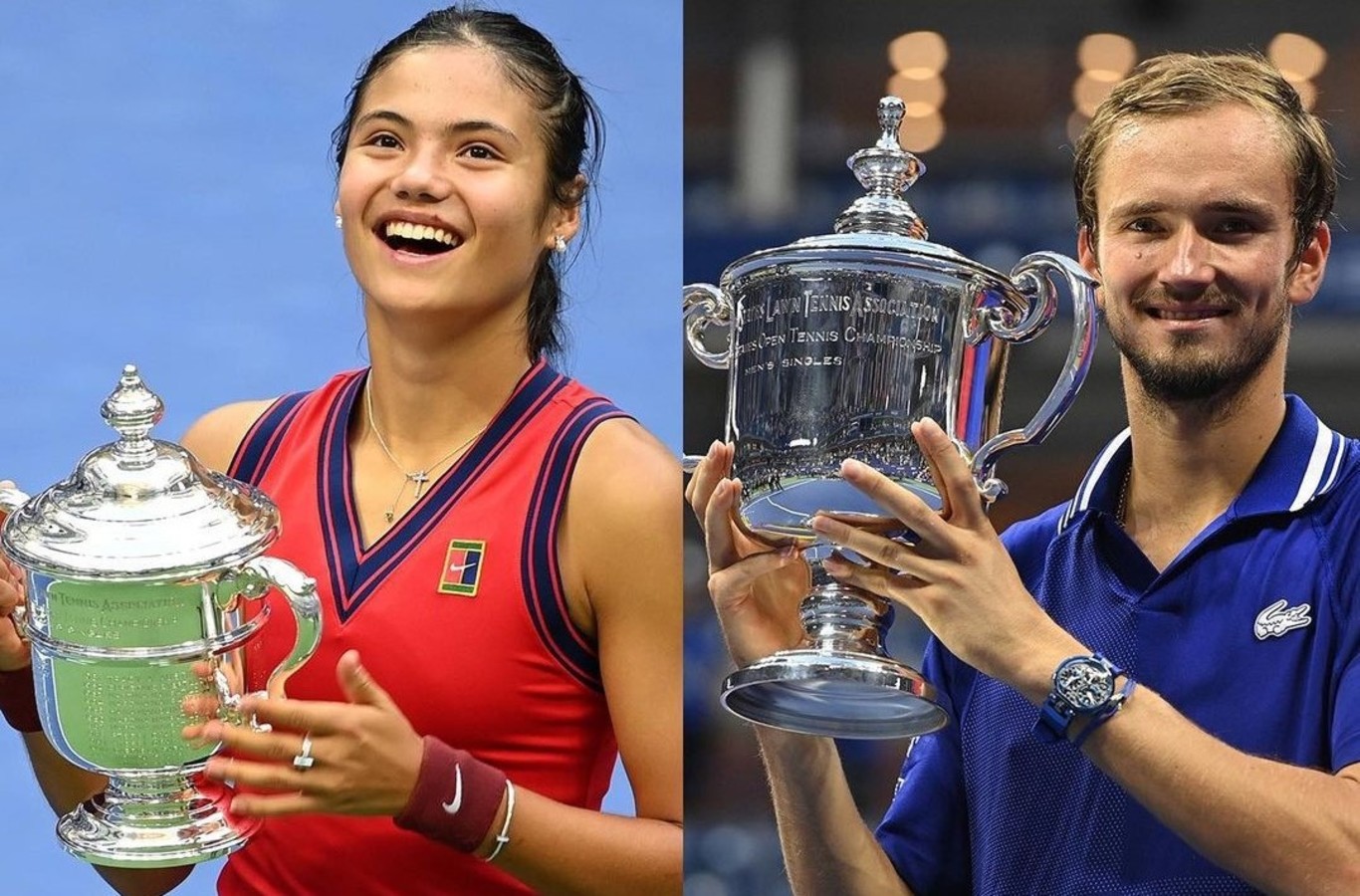 History was made at the 2021 US Open as Emma Raducanu & Daniil Medvedev defied all odds to win their first-ever grand slam titles in New York. In the absence of Roger Federer, Rafael Nadal and Serena Williams, the next generation of tennis made their mark at Flushing Meadows, which could symbolise a changing of the guard at the very top of the sport.
The Rise of Raducanu
View this post on Instagram
Three months after giving her final A-Levels examinations, Emma Raducanu eclipsed all expectations to become the first qualifier – man or woman – to win a grand slam title in the Open era. Raducanu's success in New York is one of the biggest breakthroughs in tennis history as the 18-year-old was ranked number 338 before Wimbledon in July and entered the US Open without even winning a single match on the WTA tour. Nevertheless, the British superstar powered her way through the three weeks at Flushing Meadows to win all ten matches without dropping a single set.
In the process, the 18-year-old from Bromley is the first woman to win a major in only her second attempt, the youngest female Grand Slam winner since Maria Sharapova in 2004 and the first British woman to win a major in 44 years. Despite her age, Raducanu showed immense maturity and mental calmness throughout her run to the title in New York, and her immense ball-striking and aggression eventually proved to be the difference as she beat 19-year-old Canadian Leylah Fernandez 6-4 6-3 in the final.
Medvedev ends Djokovic's calendar slam dreams
View this post on Instagram
Daniil Medvedev had to wait a lot longer than Emma Raducanu for his first Grand Slam, but the world number two finally crossed over the line at the US Open to secure his maiden major title. All the focus ahead of this final was on world number one Novak Djokovic's quest to win the calendar slam, but the Serbian unfortunately fell at the last hurdle, with the Russian becoming the first person to beat Djokovic in Grand Slams in 2021 after 27 attempts.
Djokovic was aiming for his record-breaking 21st Grand Slam, but Medvedev completely outplayed the Serbian at the Arthur Ashe Stadium with a straight-sets victory which was powered by his staunch defence and thundering service game. The Russian fired 16 aces in the final as he dropped only one set throughout the tournament to become only the second man born in the 1990s to win a Grand Slam title after Dominic Thiem.
With this victory, Medvedev is also the first person from the next generation to beat a member of the big three in a final, and the dramatic events at the US Open suggest that a new era seems to be upon us in both Men's and Women's tennis.
[Image Credit: US Open]