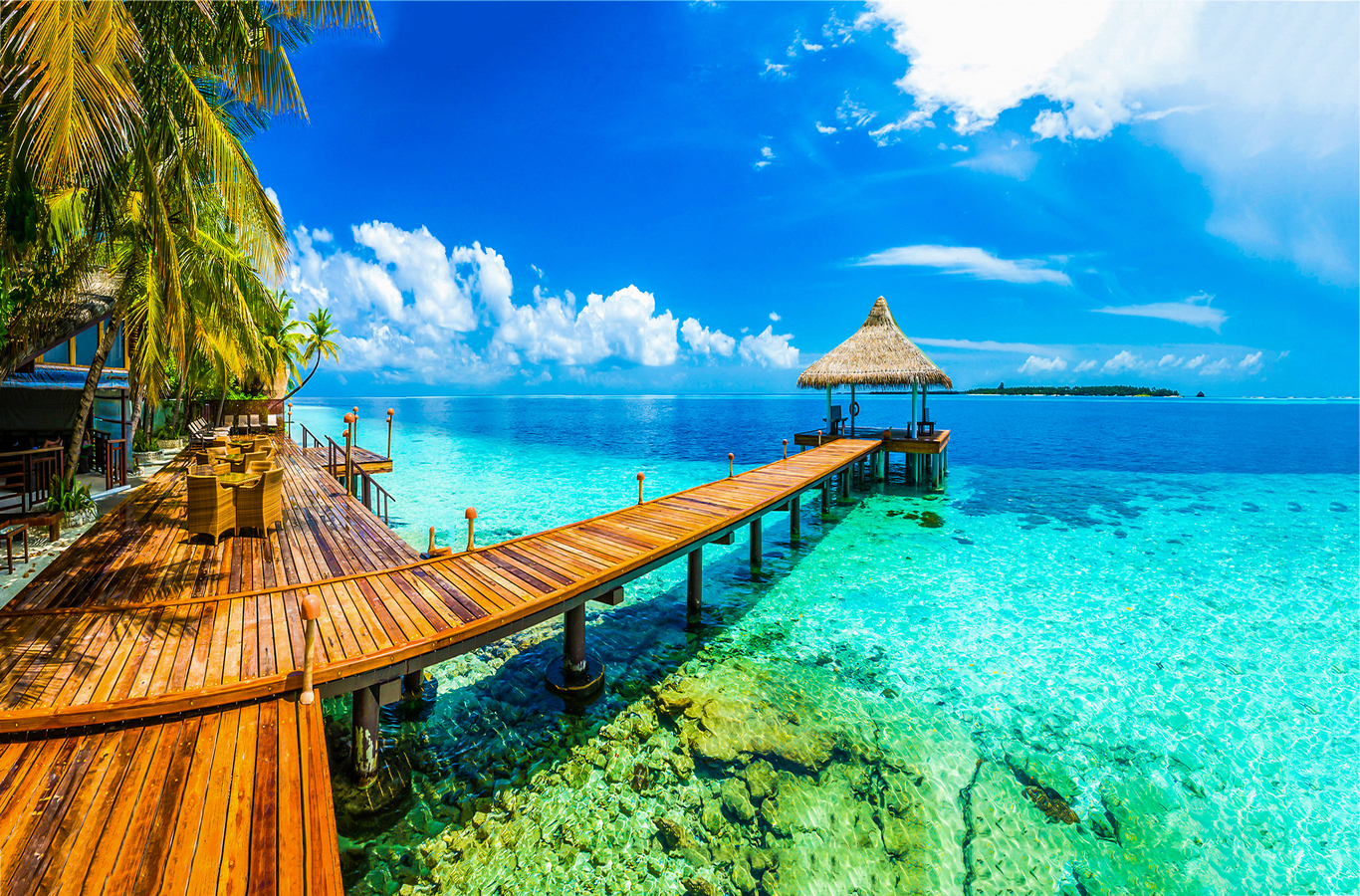 Highlight
Decoding the Internet's latest obsession with this picture-perfect archipelago in the Indian Ocean.
At first, there was the banana bread. Then came, the sourdough and Dalgona coffee! Remember how our IG feeds blew up not so long ago with the images of perfectly baked loaves and frothy drinks when our lives came to a standstill due to the (ongoing) pandemic? Now, the world seems to have retired their overworked ovens, and found, their love for, wait for it…. Maldives!!!
The leading destination despite a global pandemic

Snow-white sands. Cerulean waters. Pristine beaches with sun-lit skies that look like a postcard come alive! Maldives has seduced travellers with her unmatched beauty for years! However, when the pandemic hit, its shores became uncharacteristically deserted.

Tourism is the largest industry, accounting for 28 per cent of Maldives' GDP; lack of tourists meant the economy taking a beating. Yet Maldives managed to bag The World's Leading Travel Destination in 2020 by the World Travel Awards. 
According to a report on visitmaldives.com, Indian travellers were the second-highest visitors based on the arrival figures of 2019 making it one of the highest performing markets for the islands. So, once they reopened their borders in July 2020, the target for the recovery of tourism in Maldives was to achieve pre-pandemic growth levels and increase tourist arrivals from India. 
To get this going, Visit Maldives conducted several marketing campaigns and activities targeting the Indian market. In simpler terms, they invited celebrities and media personalities to experience, and that is how Maldives became the internet's latest obsession or say, the new Dalgona Coffee in the middle of one of the worst health challenges the world has faced in centuries!  
Chinmaya Sharma (@scuba_chinu) is a passionate diver, content creator, actor and presenter. He is also a self-confessed lover of all things Maldives has to offer. "It's one of our (my wife and mine) favourite destinations. We've gone diving, stayed at resorts and lived aboard on a yacht. Basically, we've done all kinds of holidays in Maldives," he says.
The best thing about Maldives?  It has something to offer every kind of traveller….

Maldives for lovers

Located between the Arabian and Laccadive sea, roughly 500 miles southwest of Sri Lanka, the Maldives is as isolated as you can get.  No wonder then that it's almost a default choice for most honeymooners/couples! Direct flights from across the major metros in India will get you to Male, the Maldivian capital.

"The sunset cruise is a must-try for couples because there isn't anything more romantic and beautiful as the Maldivan sunset," reveals Sharma. If you're staying at resorts, the cruise is complimentary, and so are the snorkelling gear, sailing and sunset fishing trips (for a few extra bucks you can eat the fish you caught fresh on the boat). "Paddle boating is a great activity to do together," adds Sharma. Candle-light dinners under star-lit skies by the beach are other favourites among lovebirds, old and new alike. Honeymoon water villas are available across resorts and boutique hotels, which give privacy a whole other meaning—there is just the ocean, you and your partner… and nothing else.  
Head to Huvafen Underwater Spa at Huvafen Fushi, the world's first and only spa that is fully located under the water. Experience the quiet moments surrounded by aquatic life!

Maldives for divers

 



Sometimes, it's easy to forget the secret worlds the ocean holds beneath its vastness. The Maldives is blessed with about 5 per cent of the global reef area.  You simply must check out the amazing corals, schools of bright-hued tropical fish in the and in deeper waters, turtles, manta rays, and sharks. You'll have no trouble 'finding Nemo' here! 
"The reefs around the hotels are not more than five feet deep, so you can catch a glimpse of marine life even when you walk around your water villas," explains Sharma.  According to the official tourism website, nearly half of those who visit the Maldives snorkel or dive and experience the colourful wonders that lie beneath the surface. The islands have great diving spots and naturally, is one of the top picks for serious and passionate divers. There are Diving Centres spread across most of the guesthouse islands. Liveaboards carry their own diving gear if the tour is dedicated to diving, and all liveaboards without exception carry a collection of snorkelling equipment. 
Resorts and Guest Houses also organise their very own snorkelling excursions. If you intend to dive, pre-book a schedule with a 'dive school' or visit one as soon as you arrive. Maldives Dive schools offer dive courses leading to certification from beginner to advanced levels. Maldives boasts excellent safety standards, modern equipment and great coaches.
The Maldives is also known for being a top destination for diving with sharks!  Fuvahmulah Atoll is in the Deep South of the Maldives and offers the chance to dive with numerous tiger sharks and even thresher sharks. This isolated atoll has pristine reefs and over 20 dive sites to explore and is accessible during southern atoll liveaboard diving. The best time to visit is from December to March. Tiger sharks have a reputation of being dangerous because this shark species is responsible for more shark bite incidents than most other species of shark. However, the risk of ever being bitten by a shark is extremely low. You can even get to see the harmless Whale Shark, the largest fish in the world. South Ari Atoll, a protected marine area, remains one of the best places in the world to see whale sharks, which are spotted year-round on the outer reef, while North Ari Atoll is famous for its hammerhead sharks, although these are far more elusive and require deep diving to see.
Adds Sharma, "If you're a diving novice, you can choose to dive at the shallow end and still have an amazing experience. I love diving and have been wanting to dive with the sharks ever since I was a kid. In Maldives you can swim with them without cages. You have to be highly trained to swim around Tiger Sharks. They're not an immediate threat to divers, but they deserve a high level of respect though. We are the ones infesting the waters, their home and not the other way around!"

Wreck diving is the ultimate adventure for many. Maldives is an ideal destination for diving among caves, tunnels and shipwrecks exploring the sunken treasures beneath the deep blue sea.

Maldives for a luxury holiday

Resorts: If you love all things luxury, this archipelago in the Indian Ocean spread across the Equator, will indulge and charm you like a lover. There are over 100 resorts to pick from. Every resort in Maldives is its own private island—at the top end, the world's most exclusive hotel brands compete with each other to cater to your every whim and fancy—from personal butlers and private lap pools to in-room massages and pillow menus. Every resort has a gourmet picnic on offer, where you and your partner/family will be whisked away and dropped off at an uninhabited island. The crew then leave you on a white-sandy beach surrounded by the turquoise lagoon—where you can explore the island, eat great food, sunbathe and swim!  The Lonely Planet Guide describes this aptly as: 'The modern castaway experience'.
Live aboard: The Maldives has 158 liveaboards—also known as localised cruise ships, boats and yachts—that offer sea safaris around the pristine waters and coral reefs. "I lived on the upper deck suite aboard a yacht, and waking up and being surrounded by the Indian Ocean everyday was stuff that dreams are made of," says Sharma. Staying on a liveaboard you are able to visit all the interesting dive sites in that area as the voyage covers vast areas. Land-based dives are sites in and around the resort which can be limiting.  
Travellers can even rent out the entirety of a yacht, houseboat, or small cruising vessel, and then customise the staff to their requirements. The liveaboards come in various shapes, sizes and standards. While some offer affordable options, others are accompanied by extravagant settings complete with spacious accommodation, vast sundecks, lavish buffets, fine dining with the finest wines, personal butlers and luxury spa treatments. 
Maldives on a budget

Maldives has a reputation for being an exclusive, ultra-lavish destination. It doesn't have to be all about chartering yachts or diving or dining from an overwater bungalow. To cut down expenses, book your air tickets in advance to get a great deal. Stay at a local guest house or an affordable hotel. Guesthouses are truly the way to experience the real 'island life'—interact with locals, eat traditional fare and immerse yourself in the local culture. The best guest houses are on remote atolls (reefs) far away from the capital, Male. 
Mistakes to avoid while visiting Maldives

:


1. Visiting only one island: Maldives is made up of at least 1,192 uninhabited islands and 200 inhabited ones. While Male, the Maldivan capital is a great place with fine dining options and local tea shops in equal measure, there are also other islands you can visit on a day trip. Take a seaplane (offering stunning aerial views) to go to the remote Gan Island or Maafushi, the first inhabited island that offers pocket-friendly accommodation and a good 'bikini beach', where visitors can swim without offending the locals.


2. Not respecting the local religious and cultural norms: The Maldives is predominantly a Muslim country, so public consumption of alcohol is prohibited. It's served across liveaboards and resorts. There is a dress code to be followed while outside of a resort and also special 'bikini' beaches. 

3. Not trying the local cuisine: While you get some of the best steaks and haute cuisine, you should try the spicy Maldivan food at least once; spicy fish curries, soups or fish patties A favourite Maldivian breakfast is mas huni, a healthy mixture of tuna, onion, coconut and chilli, eaten cold with roshi (unleavened bread, like an Indian chapati) and tea.


4. Not getting a reef-safe sunscreen: The islands are at the equator, which means the sun's rays beat down at a 90-degree angle. The sun is exceptionally strong and your sunscreen should be waterproof, packed with SPF, and constantly reapplied and also reef-proof. Make sure to get a reef-safe sunscreen to prevent the bleaching of the beautiful coral reefs! 


5. Not getting a Covid-19 PCR test: All tourists are required to hold a negative PCR test for COVID-19 conducted 96 hours prior to the scheduled time of departure from the first port of embarkation enroute to Maldives.

The sun, sand and sea beckons. Are your bags all packed to leave on a seaplane? 

[Image Credit: Shutterstock]