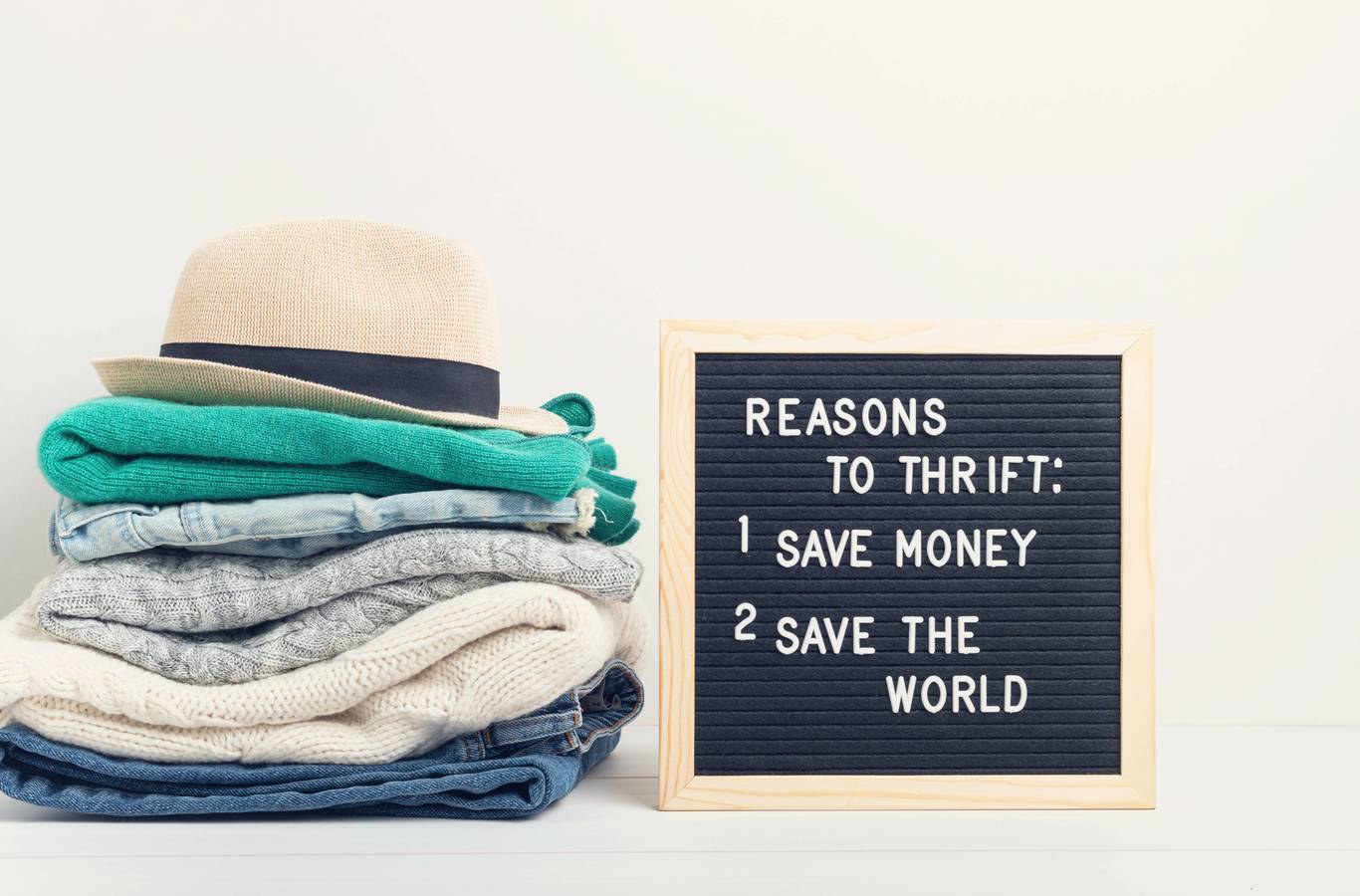 Highlight
If thrifting is your jam, this Online Thrift Store list is going to be it!
It's National Thrift Shop Day and we are excited! Why you ask? It's the perfect time to introduce the non-initiated into the world of thrifting and thrift stores. The pandemic put a complete stop to us physically going to the store, but the online retail business boomed. Amongst all the chaos that ensued, the one good thing that did come from it was the realisation that the world of fast fashion and its practices weren't the most ethical. While the shift from fast to slow fashion can be hard, online thrift stores in India and thrifting have made their way right into the middle.
We love it, and we have a feeling you're going to love it too. A thrift store is an online platform where apparel and accessories are up-cycled and available at a relatively lower price. Instagram thrift shops have slowly crept it on us. While spending money during the cash crunch made us mindful, online or Instagram thrift shops provided the perfect reason to spend less money on clothes that wouldn't land up in the landfill. What's not to love about that? It's sustainable, fashionable and cheap.
While you may wonder that most of the online thrift shops might be catering to women alone, you will be surprised. There is an entire universe out there of men's thrift shops on Instagram in India. Thrift shopping from the streets isn't new to us, but Instagram thrift shops are new and we are excited for them.
Best Online Thrift Stores In India
We at Man's Life are partial to everything fashion; if it is sustainable, even better! Here is our list of eleven online thrift stores in India for men who are in the frontline of the thrift revolution.
1. COPPER BOOM VINTAGE
View this post on Instagram
This Instagram thrift shop believes that the clothes that they sell have no gender. With quirky prints and oversized silhouettes, this thrift shop has clothes for those who want to stand out from the rest. This thrift store in Mumbai is run by Eden Dias whose own love for thrift store shopping spearheaded Copper Boom Vintage—it's the ideal place for finding clothes that will be your wardrobe favourites for years to come.
2. BOMBAY CLOSET CLEANSE
View this post on Instagram
One person's trash can be another person's treasure! Started by sisters Alfiya and Sana Khan, this women-run thrift shop in India has a mission of making circular fashion a way of life. What started with a garage sale has now grown to a store in the plush vicinity of Bandra, Mumbai. The values though remain the same—clothes that aren't being used by people, surplus from export houses and second-hand finds can add a lot of value to people's lives. Bombay Closet Cleanse is constantly thinking of new ways to create less waste and up-cycle products for their customers. Other than a physical thrift store in Mumbai they also have a website that helps you thrift Indie fashion from the comfort of your couch.
3. AST THRIFTED
View this post on Instagram
This Gangtok based sustainable yet trendy Instagram thrift shop is a place for men that want a quick fix for all things streetwear. With oversized T-shirts and sweatshirts being a common theme throughout the store, the curator Abinash Sherpa Tamang has a unique style that cannot be missed. With occasional sneakers on sale as well, this is a thrift store that has pieces to amp up your wardrobe with the right fashion accessories for men that can put you on the fashion map in a jiffy!
4. TARUN CLOSET
View this post on Instagram
We aren't supposed to pick a favourite, but this thrift store definitely stands out! Run by Tarun, a 19-year-old digital creator, the Instagram thrift shop is a direct reflection of his style. With jeans and trench coats on sale — which btw are major winter trends, he provides you with a style reference so you know how to wear those pieces. His clothes range from neutral to ones with the occasional pop of colour, making their presence known. This online thrift store in India is an exact copy of what your street style Pinterest board would look like! This is what the future of men's fashion in India is going to look like!
5. CANDOUR
View this post on Instagram
If you love branded tees, sneakers and loafers or anything basic that should be a part of your wardrobe, don't look any further—Candour is the place you want to shop from! A men's Instagram thrift shop in India that caters to a man's fashion needs, there isn't much to complain about here. A place that resells surplus clothing, there is something for everybody.
6. HANDPICKED FASHION
View this post on Instagram
There is one thing that always gets us sceptical about thrifting—sizes. It can be hard for people who are bigger to find appropriate sizing of clothes. Handpicked Fashion that is an online thrift store in India embraces sizes and dare we say, the most unique prints! If you are somebody who isn't afraid of being bold and wearing prints to dazzle those around you, this is the place for you. From half sleeves to Cuban collars, from neutrals to bright colours, this Instagram thrift shop has it all. Go Crazy!
7. PARADIME THRIFT
View this post on Instagram
Who doesn't love varsity jackets and baseball shirts, vintage prints and pop references? If you are one of them, Paradime Thrift is where you should be thrifting from. It is your go-to store for pocket-friendly, fashion-forward thrifting. With styles that will never go out of fashion, Paradime Thrift stands out as the laid-back, casual, not-so-casual thrift store.
8. BYGONE ECHOES MEN
View this post on Instagram
Stylist Dennis Hauzel is the man behind the curation of this fashionable thrift store. Even though Bygone Echoes Men is an Instagram thrift store, the products are sold to make you realise the potential the garments have. Well styled fashion and conceptualised fashion shoots for thrifted goodies, well that's just amazing! We stan!
9. OOIK
View this post on Instagram
What started as a thrift store out of a tea stall has now grown into a physical store— now that is progress. This thrift store in Mumbai doesn't stop there, they have their store up and running on Instagram for all those who won't click on the website link— we see you! Ooik is one of the few gender neutral thrift stores that follow the vibe and vision of being cool, conscious and crafted in their process. Their clothes range from chill streetwear to clothes with an ode to retro nostalgia. Overall a thrifting experience you shouldn't miss.
10. SOBO THRIFTS
View this post on Instagram
South Bombay Thrifts, as the name suggests is a thrift store in Mumbai. There are many thrift stores that have popped up in the city, but a few that cater to men and their need for athleisure and outerwear. This Instagram thrift store has a stellar collection of jackets and hoodies that are ideal for Mumbaikars and their love for laidback outfits to live their day by.
11. ASSORTMENT 2.0
The north-east of India for years now has been churning out fashion like no other. With a steady rise of thrift stores from that region, it's no surprise that this list would include a few online thrift shops from there. Let us introduce you to Assortments 2.0 from Nagaland! Like the name suggests this Instagram thrift shop sells an assortment of garments for everybody, from plain T-shirts to hoodies, you got them all. Your basic garments are just a click away.
We know that you are confused to choose from the variety of Instagram thrift shops out there.
The anti-fast fashion movement is gaining momentum all over the country. These online thrift stores in India play a very important part in changing how we consume fashion. The next time you land upon a fast fashion website, hold back and ask yourself if you can thrift these instead? We know that you are confused to choose from the variety of Instagram thrift shops out there, but just take the leap of faith!
[Image Credit: Shutterstock]